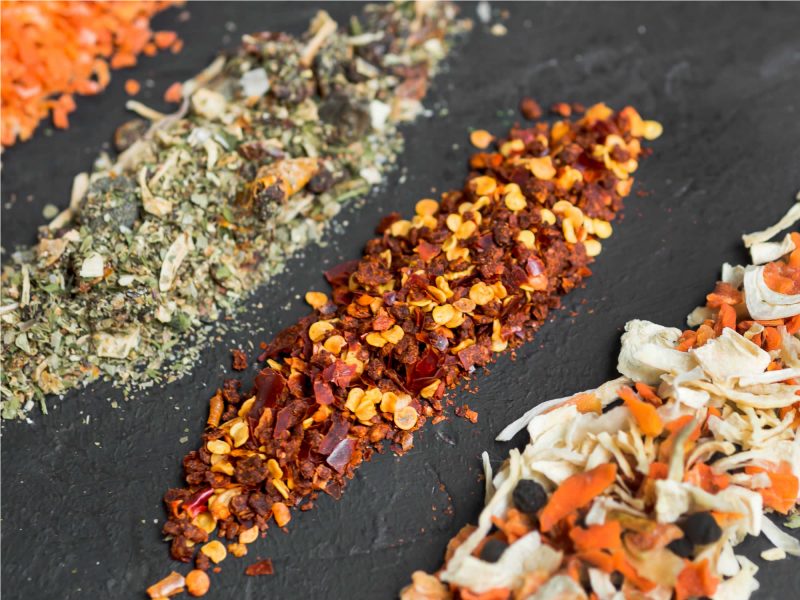 Cannabis as a seasoning for food and drink
Making cannabis seasoning is the art of mixing herbs and spices for taste, aroma, and health benefits for food and beverages. Everyone has a favorite seasoning, and adding dried or fresh cannabis to the mix can only make it better.  Combining cannabis leaves and flowers with other herbs to sweet and savoy foods is a matter of familiarizing yourself with a plants chemical compound, what it tastes like, and how it effects the body. Once you understand botanical properties, you can combine them to make cannabis seasonings with a mission.
Example:  The chemical compounds found in the plants and spices below and the reported effects on the human body.
Cannabis relaxation and anxiety relief

Basil relaxation relief and more

Oregano enhances concentration and promoted relaxation

Onions help reduce stress and bone loss

Rosemary  improves mental clarity,  relaxation and more

Thyme  helps lower blood pressure and reduce anxiety

Chili pepper protects cells and reduces inflammation
The botanical ingredients above when mixed together to not only create a flavorful Italian seasoning, but by it itself is a natural way to help with what ails you. Maybe that's why many people love Italian seasoning, perhaps subliminally the body is telling them something.
Plants have different chemicals and they are not all the same. For instance, lemons give you a boost and works well with the immune system due to the chemical properties it contains. A nice pairing of CBD and lemon would elevate a fish dish to an even better for you recipe.  Or a nice cup of tea with fruits, berries and cannabis leaves would do a body good.
Dry your herbs and spices and combine them. Make teas, with lemon, ground ginger, mint leaves, cannabis flowers, and so much more. Add CBD or THC bits and flakes to a breakfast of fresh egg and cannabis omelet, or sprinkle fresh finely chopped or dried cannabis leaves and chopped roots over scrambled eggs. Cannabis can be integrated with most herbs and spices to liven up food and drink. Cannabis creations for food is only limited by taste and preference when creating amazing, almost magical seasoning recipes.
NOTE: When making seasonings for a self life of six months all ingredients mixed should be completely dried.
Please be sure to consult with your doctor regarding the safety of consuming cannabis products.